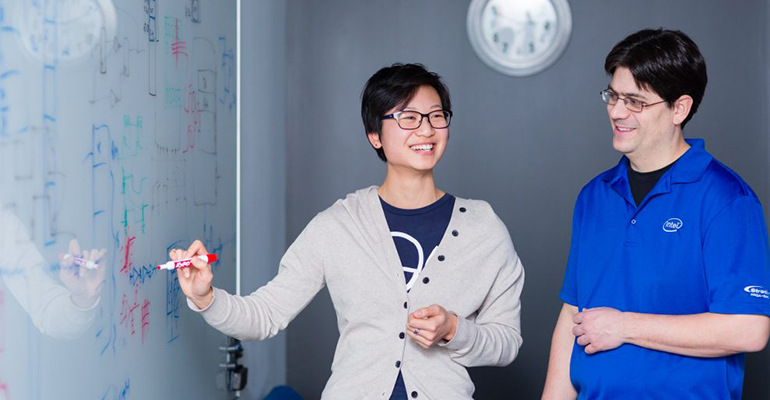 Each employer is assigned a lead Co-op Coordinator and is supported by the Employer Relations team. To discuss your recruitment needs or job postings, or for support with the ECC Career Portal, please contact your Coordinator or email our general inbox.
Here's the contact information for the entire Engineering Career Centre team.
Our offices are located in downtown Toronto.
Canada's leading Engineering co-op program
The Professional Experience Year Co-op Program (PEY Co-op) offered through the Faculty of Applied Science & Engineering is the largest program of its kind in Canada, and a key part of U of T's commitment to  learning.
PEY Co-op enables undergraduates who have completed their second or third year of study to build meaningful work experience, strengthen their professional networks and enhance their interpersonal and technical competencies. During the work terms, students are full-time employees with a competitive salary.
Students are undergraduates, and come from the Faculty of Applied Science & Engineering and University of Toronto Mississauga Mathematical and Computational Sciences.
Co-op employers will be able to post and promote roles to engineering student applicants to recruit for the summer 2023 work term. Summer students are available for 12 to 16 weeks between May and August 2023.
Over 1,000 talented students in this cohort have completed intensive and structured career programming. In addition to building their professional brand and investigating different industries, they have enhanced their knowledge of workplace dynamics, which ensures a smooth transition to the workplace.
Starting September 19, 2022: A pilot group of Year 2 Engineering students (plus qualified students from the University of Toronto Mississauga (UTM) will begin applying for summer jobs.
Starting January 2023: The full cohort of Year 2 engineering and UTM students will begin applying for summer jobs.
Recruit for 12 to 16 month work terms starting between May and September 2023. 
Starting September 19 2022: Undergraduate students from the Faculty of Applied Science & Engineering and University of Toronto Mississauga Mathematical and Computational Sciences can start applying to posted opportunities. The recruitment period is a continuous cycle and runs until  July 2023. 
Build a talent pipeline from Canada's #1 ranked engineering school.  With an underlying commitment to developing the 'whole engineer', we ensure our students have the technical skills and training in workplace dynamics to make a lasting impact at your organization.
You also have a large pool of talent to choose from, since over 1500 U of T students from Engineering and other technical disciplines register in the PEY Co-op program every year.
Join hundreds of satisfied employers
Our PEY students play a crucial role and are an integral part of our community at AMD. As an alumnus and current Hardware Validation hiring manager for the PEY program, I can attest to the fresh perspectives and diverse ideas the students bring to the organization. We are always looking for students who are eager to develop their technical skills and help solve real world problems in the semiconductor industry. The PEY program gives students not only an opportunity to build their skills, but it also opens the door to future employment within the company. It's a win-win for everyone.
- Michael Politano (AMD)
What I appreciated most about the PEY students we hired were that the are very professional, hardworking, and motivated, and they adapted to the work environment in no time. Their fresh ideas and enthusiasm were a great positive impact in our workplace. It has been amazing to work with our current PEY students, Claire and Clara. They have maintained top quality work despite having to deal with the challenges that have come with the Covid-19 pandemic. We are looking to continue to build on our relationship with the PEY program to ensure a strong connection and hiring pipeline in the future.
- Siddharth Das (Kinectrics Inc.)
As a result of Walmart Canada partnering with University of Toronto's PEY program, dozens of students over the years gained unique experience by working alongside seasoned industry professionals, solving problems, implementing change and growing into young professionals ready for the real word challenges. These students are not just interns - they play an integral part in the successes of the teams they work within. At the end of their term it's rewarding to see the progress they have made, the impact they have had and the learning they are taking away with them.
- Alexei Taianovski (Walmart Canada)
Recruitment process and timeline
We encourage you to post your jobs and hire early in the cycle: this is when the pool of available students is at its largest. (Although there are good students available throughout the 8-month recruitment cycle, approximately 30% of students get hired in the fall.)
2022:
August 29: Career Portal opens to employers
September 19: Career Portal opens to students
October 10: interviews, job offers and acceptances begin
December 16: suggested deadline to interview before winter break; deadline to confirm offers through ECC before winter break
December 9-30: exams and winter break
2023:
April: Job postings and offers close for summer work terms
June: Job postings close for 12-16-month work terms
July 15: interviews close for 12-16-month work terms
August: job offers close for 12-16-month work terms
Work term dates:
May through August 2023: summer work terms
May to September 2023 through May to August 2024: 12-16-month work terms
How to ensure a successful work term
The University of Toronto monitors and follows the advice of public health authorities regarding restrictions of working in person at the company location. Co-op employers are encouraged to observe and implement the safety policies and protocols of cities and provinces where our co-op students are assigned to complete their work terms.   
The Engineering Career Centre staff were able to successfully facilitate over one thousand co-op work terms in the past year by delivering our services online and virtually to both students and employers. 
For the 2022-2023 recruitment cycle, while there are plans for the University to return to the workplace in person, we also recognize that on-campus face-to-face interviews may not happen due to safety protocol requirements. As such, we encourage our employers and students to be prepared for virtual interviews. We will continue to monitor and guide you with any recruitment updates as we receive them. 
If you are an international employer hiring co-op students, we encourage you to discuss the following with potential students:
Start and end dates of the work period
Compensation details
Relocation expenses, such as travel and housing assistance
Onboarding resources, local transit information
Visa processing options, sponsorship, and payment of administrative fees