Benefits of Hiring Students from the Professional Experience Year (PEY) Co-op Program
PEY Co-op Work Term Information
Our Co-op Program
The Professional Experience Year Co-op Program offered through the Faculty of Applied Science and Engineering is the largest program of its kind in Canada, and a key part of U of T's commitment to experiential learning. This optional program enables undergraduates who have completed their second or third year of study to build meaningful work experience, strengthen their professional networks and enhance their interpersonal and technical competencies. During the work term, students are full-time employees with a competitive salary.
New Co-op Programming Model

 (2022-2023 Transition Year)
In September 2020, the Engineering Career Centre launched a new PEY Co-op programming model that provides engineering students access to workplace preparatory programming during Year 1 and 2. The new programming is designed to provide students with the perfect balance of engaging professional development and immersive industry exposure that will get them ready to successfully participate in recruitment and arrive at the workplace well prepared.   
The 2022-2023 work term year will be a transition year between the current co-op model and the new program model. To facilitate this transition, the following co-op work terms are offered to eligible student participants for October 2021 and January 2022 recruitment: 
Co-op employers will be able to post and promote roles to engineering student applicants to recruit for summer 2022 work term. Summer students are available to work for a minimum of 12 weeks and up to 16 weeks between May and August 2022. 
Starting October 4, 2021:

  Year 3 engineering students participating in the Engineering Summer Internship Program (ESIP) are available to apply for summer opportunities. Summer 2022 will be the final work term offering for ESIP participants and only a few applicants are available.

 

Starting January 7, 2022

:  Year 2 engineering students under the new co-op program model will be competing for summer jobs. Over 1,000 students in this cohort are getting prepared to complete intensive and structured career programming that allows them to network with different industries, develop their job search strategies, build and maintain their professional brand, and enhance their knowledge of workplace dynamics for easy transitioning to the workplace. 

 
Co-op employers will be able to post and promote roles to undergraduate students from Faculty of Applied Science & Engineering and Faculty of Arts & Science  applicants to recruit for 12-16 month work terms starting between May-September 2022.   Within the new PEY Co-op model, the year 2022-2023 is the last work term year that Arts and Science students at St. George Campus and UTSC will be able to participate.  Participation of UTM students in the PEY Co-op program is currently under discussion.
Starting October 4, 2021:  Undergraduate students from Faculty of Applied Science & Engineering and Faculty of Arts & Science participating in the Professional Experience Year  Co-op (PEY) are available to apply for opportunities.   The recruitment period is a continuous cycle throughout the recruitment period and runs until July 2022. 
Program Comparisons at a Glance
Cohort
Length of Work Term
Start Dates
End Dates
Summer 2022
12-16 Weeks (4 months)
May 2022
August 2022
Professional Experience Year Co-op
(PEY Co-op) 2022-2023
12-16 Months
Flexible between

May – Sept 2022
Flexible between

May – Aug 2023
Testimonials
Our PEY students play a crucial role and are an integral part of our community at AMD. As an alumnus and current Hardware Validation hiring manager for the PEY program, I can attest to the fresh perspectives and diverse ideas the students bring to the organization. We are always looking for students who are eager to develop their technical skills and help solve real world problems in the semiconductor industry. The PEY program gives students not only an opportunity to build their skills, but it also opens the door to future employment within the company. It's a win-win for everyone.
- Michael Politano (AMD)
What I appreciated most about the PEY students we hired were that the are very professional, hardworking, and motivated, and they adapted to the work environment in no time. Their fresh ideas and enthusiasm were a great positive impact in our workplace. It has been amazing to work with our current PEY students, Claire and Clara. They have maintained top quality work despite having to deal with the challenges that have come with the Covid-19 pandemic. We are looking to continue to build on our relationship with the PEY program to ensure a strong connection and hiring pipeline in the future.
- Siddharth Das (Kinectrics Inc.)
As a result of Walmart Canada partnering with University of Toronto's PEY program, dozens of students over the years gained unique experience by working alongside seasoned industry professionals, solving problems, implementing change and growing into young professionals ready for the real word challenges. These students are not just interns - they play an integral part in the successes of the teams they work within. At the end of their term it's rewarding to see the progress they have made, the impact they have had and the learning they are taking away with them.
- Alexei Taianovski (Walmart Canada)
Safety Protocols and Requirements
The University of Toronto monitors and follows the advice of public health authorities regarding restrictions of working in person at the company location.  While the restrictions are slowly easing out in some parts of Canada, co-op employers are encouraged to observe and implement the safety policies and protocols of cities and provinces where our co-op students are assigned to complete their work terms.   
The Engineering Career Centre staff were able to successfully facilitate over a thousand co-op work terms in the past year by delivering our services online and virtually to both students and employers.  For 2022-2023 recruitment cycle, while there are plans for the university to return to the workplace in person, we also recognize the fact that on-campus face to face interviews may not happen due to safety protocol requirements. As such, we encourage our employers and students to plan for virtual interviews in Fall 2021 and Winter 2022.  We will continue to monitor and guide you with any recruitment updates as we receive them. 
International Work Terms
We are happy to report that travel is once again permitted for students to international locations for 2022-2023 co-op experiences. If you are an international employer hiring co-op students, we encourage you to discuss the following with potential students:
Start and end dates of the work period
Compensation details
Relocation expenses, such as travel and housing assistance
Onboarding resources, local transit information
Visa processing options, sponsorship, and payment of administrative fees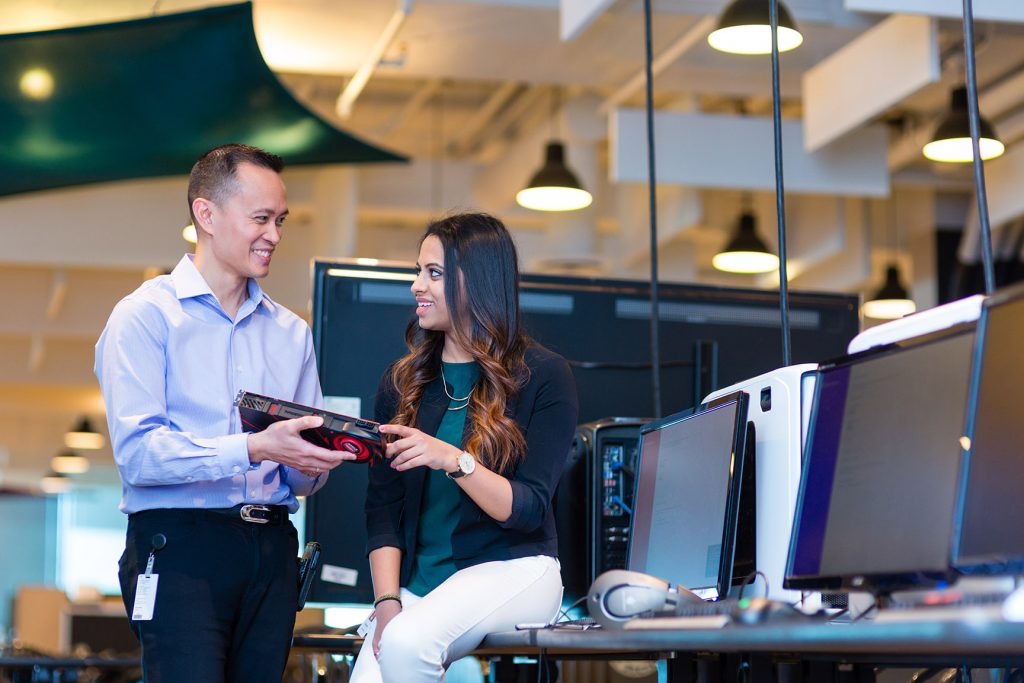 Recruitment Timelines
The ECC Career Portal is the hub where our students/recent graduates and alumni check for job opportunities. The Career Portal is easy to manage and majority of our employers take advantage of its efficiency in helping them speed-up their hiring process. This on-line system will allow you to post jobs, view and receive applications and schedule interviews.  
Managing a Successful Work Term 
What makes a successful work-integrated learning (WIL) experience?
Student Supervisor 
A co-op student spends most of their time with their supervisor from the time they train until their last day on the job.  
Assign a designated and an appropriate work space, including any IT or work equipment necessary for the duration of the student's work term.

 

Discuss your supervisory style, your preferred mode of communication and frequency of individual and team meetings.

 

Establish a regular schedule of check-ins with your student in order to monitor progress, regulate workload, and troubleshoot any concerns. Ensure that student is developing relationships with team members, is participating in meetings, and is engaging in activities with your team.

 
Onboarding: 
At the start of the work term introduce the student to their co-op supervisor, team members, and other staff that they will be closely working with.

 

At the start of the work term, plan with the student in developing learning objectives and set appropriate expectations for the position. The learning objectives can be personal 

i.e. interpersonal skills

 and/or professional 

i.e. learning a new technical skill.

 

On boarding of students includes an overview of the organization, policies employees must follow, health and safety protocols, IT and security, and expectations for equity, diversity, inclusion and professionalism

 
Work Responsibilities:  
Ensure the student receives high quality learning opportunity with adequate supervision, regular guidance, and constructive feedback continuously throughout the work term.

 

Provide guidance on must have skills that will enhance the student's experience and speed up their professional growth while at the company and beyond

 

Encourage the student to document their learning to help them prepare for their Final Report and for easy referencing if your organization requires and end-of-the-term presentation.

 

Consider pairing your student with a mentor to support them during their time with the organization

 

As the work term progresses, provide more challenging tasks, responsibilities, and learning opportunities so they can make substantial workplace contribution.

 
Accommodate the ECC team during student-employers site visits to evaluate the student's work term performance and learning outcomes.

 

Complete and review any and all evaluations and/or reports provided by the PEY Co-op program regarding the hired student's performance on the job, as required by the ECC. 

 

If possible, provide an exit interview with the student to review their job performance, feedback on their work term, and possible future employment. 

 

Recognize that the student is required to complete their program of study by returning to full-time academics and should not receive an offer for full-time employment that will start after their official PEY Co-op contract end date.

 
Immediately contact the assigned PEY Co-op Coordinator if: 
There are any issues or circumstances that would lead to rescinding the co-op contract prior to the start date

 

If a student's contract dates have changed

 

The company is experiencing any problems/issues with the hired student and/or if the student has been given any official warning (written or verbal) regarding unsatisfactory work performance or undesirable attitude during their work term, or

 

The company is going through organizational restructuring that could impact the student's work term duration or possible termination.

 
If you have any success stories about your PEY Co-op student(s) – we would love to hear them!
Please contact the co-op coordinator working with your organization or for general inquires:  
Phone: 416-978-3881  
Email: pey.coop@utoronto.ca
Evaluations & Site Visits