Welcome to PEY Co-op and ESIP Information Session!  This recording is designed to help you learn more about the PEY Co-op & ESIP programs.
The Engineering Career Centre (ECC) is working remotely in support of the University of Toronto's efforts to slow the transmission of COVID-19. While this year might look and feel a little different, we are still available to support student & employer recruitment needs for PEY Co-op through email, phone and virtual meetings.
Registration is Sept 11-22 2020 and Jan 6-20 2021
Recruitment Cycle

Our co-op recruitment process for the 2021-2022 will remain remotely during the pandemic restrictions. Students will upload their application documents and apply to roles online via the system on portal or company website/email, as usual.
We are encouraging our employer partners to conduct and complete the interview process virtually (web conferencing, phone call, skype, etc.) until further notice so that students are not required to travel for an interview.
We will continue to monitor and follow the recommendations of Health Canada and the University of Toronto's COVID-19 response plan and notify students of updates on how the recruitment process will proceed into the 2021 year.
If a student has any questions regarding job postings, resume/cover letter support, interview process and preparation, please send an email to ask.ecc@utoronto.ca or pey.coop@utoronto.ca
Professional Experience Year (PEY) Co-op
12 – 16 month continuous work term from May-September 2021 to May-September 2022

Available for eligible students in 2nd and 3rd year Engineering and Arts & Science programs (International Students: Engineering, Computer Science Major/Specialist @ St. George campus and Information Security & Computer Science Major/Specialist @ UTM campus)
Engineering Summer Internship Program (ESIP)
4 month work term from May to August 2021

Available for eligible students in 2nd or 3rd year Engineering programs
You can expect to gain an understanding of the commitments, expectations and administrative requirements of each program, as well as the types of support you can expect from the Engineering Career Centre.  This is a great first step in determining which program is right for you.
Please view the recording first, and jot down any questions you have.  The Engineering Career Centre staff will be hosting Live Q&A sessions on the following dates:
*To enable captions, click on the Closed Captions CC at the bottom right and select "English").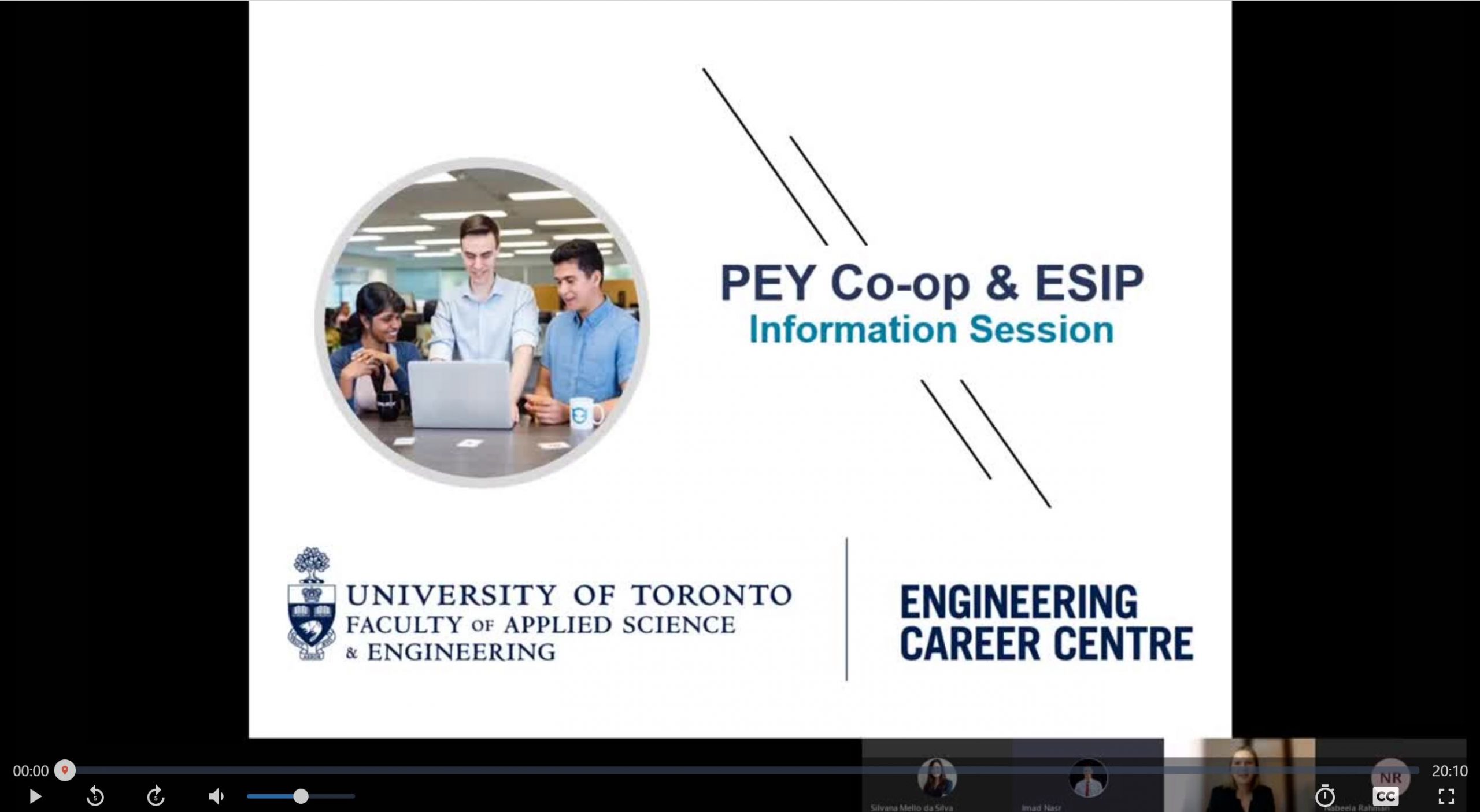 Live Q&A Dates
January 12th, 2021 @12PM
January 14th, 2021 @12PM
January 18th, 2021 @12PM
Don't forget to check the Frequently Asked Questions section of our website before attending the Live Q&A.
We look forward to welcoming you into the program!
For further information, please contact pey.coop@utoronto.ca.