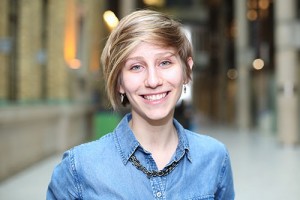 Partway through your undergraduate degree, you will have the option to participate in the Professional Experience Year (PEY) Program, the largest paid internship program in the country. Now in its 37th year, PEY is more than your average co-op. It is a full-time engineering job that lasts 12 to 16 months. Each year, more than 300 employers register to hire our students. PEY goes far beyond a traditional student work experience program, where placements usually last four months — just about the length of a summer job and barely enough time to learn the ropes.
Tailor-made for you
Your career is unique, so why should PEY be any different? Customize your experience in any or all of the following ways:
Timing: Choose to participate in PEY after second or third year of any U of T Engineering program. Once your internship is complete, you'll return to your studies to finish your degree, often with a job offer in hand.
Location: Make local connections by working in Toronto, or gain international experience with a placement abroad. Nearly one in 10 PEY students work outside of Canada.
Employer and Industry: Whether you want to work for a local startup like Wattpad, a large multinational company like IBM, or a leading-edge research lab at the Massachusetts Institute of Technology, PEY has got you covered. There are more than 1,500 positions available from over 300 employers, including Apple, Deloitte, Ontario Power Generation, Tesla, AMD, Google, IBM, Safran, TTC, Mondelez, and Deloitte.
Duration: PEY internships typically last for 12 to 16 months. During this time you'll be treated like a full-time employee and have the opportunity to make a meaningful contribution to your company, and focus on your placement without having to switch between work and school each semester. Even better, your experience can be applied towards a P.Eng. designation from Professional Engineers Ontario, meaning you'll have a head start on earning your professional engineering license after graduation.
Options: Participating in PEY is optional, so you can focus exclusively on your studies if that's what works for you. More than two-thirds of U of T Engineering Students choose to participate and gain experience in their field through PEY.

Top 10 Reasons to Choose PEY
1. IT'S MORE THAN JUST A FOOT IN THE DOOR
You'll work for 12 to 16 months, giving you enough time to gain extensive experience applying your engineering competencies to real industry challenges. As an intern, you are considered a full-time member of your employer's team. PEY interns sometimes train co-op students from other universities who are working at the same company for a shorter period of time.
2. IT'S OPTIONAL
Nearly 70 per cent of third-year engineering students choose the PEY program each year. You'll have the flexibility to pursue PEY after your second or third year of study. Those who choose not to participate in PEY often gain experience in other ways, through summer internships and research positions, or they shorten their time to graduation so they can pursue graduate school, law, medicine, or an MBA.
3. PEY FITS SEAMLESSLY INTO YOUR ACADEMIC JOURNEY
In the years leading up to your internship, you'll gain a better sense of your strengths and interests through courses, clubs and more — all of which will shape your PEY preferences. During your internship, you'll focus on your employer for 12 to 16 months and return to school with a fresh perspective on your future. For the remainder of your degree, you'll have ample time to explore your interests further, positioning you perfectly for whatever journey comes after graduation. This model allows you to focus on your studies, then focus on your professional experience, without juggling both at regular intervals.
4. YOU WILL GAIN PROFESSIONAL CONFIDENCE BEFORE STARTING YOUR INTERNSHIP
To give you the best shot at landing, and succeeding in, your dream internship, the PEY Office will work with you to ensure your resume and interview skills showcase your strengths. Career counselling and professional skills development are all important parts of the PEY process. Daily workshops and guidance on everything from networking to negotiating salary will serve you well as you apply for PEY positions and well beyond graduation.
5. YOU WILL HAVE THE MATURITY AND EXPERIENCE TO LEVERAGE PEY TO THE FULLEST
When you start PEY, you will have studied for at least two years at Canada's top-ranked engineering school. Through your coursework and a range of co-curricular opportunities, you will have worked on successful teams, researched in world-class facilities, written reports and presented your ideas. This means you'll have a wealth of engineering design skills, knowledge and experience to draw on — and build upon — during your internship.
6. YOU'LL HAVE A FULL RANGE OF OPPORTUNITIES TO CHOOSE FROM IN CANADA AND ABROAD
PEY employers range from local startups to large international companies across every sector. Last year, more than 700 PEY students had over 1,800 opportunities to choose from, many of which were outside of Canada. You will apply and interview for the positions you're most interested in, and accept the job offer that best aligns with your goals.
7. PEY CAN HELP YOU GRADUATE DEBT-FREE
While on PEY, you are treated as a full-time employee with a starting salary to match. You can expect to earn an average annual salary of $47,000. The highest salary in 2016 was $88,000. Every PEY position is paid.
8. TOP EMPLOYERS AND RECRUITERS COME TO YOU
The PEY program is nearly 40 years old and the most highly regarded optional paid internship program in the country. Some employers only hire interns through PEY because it's their best return on investment. PEY is also an excellent way for employers to preview and recruit future talent: many PEY students return to school with a confirmed or tentative job offer.
9. YOU'LL HAVE AN ADVANTAGE IN SALARY NEGOTIATIONS
Graduating with PEY experience puts you in a position to negotiate a starting salary that is — on average — 15 per cent higher than graduates without PEY experience.
10. YOU'LL GRADUATE ONE STEP CLOSER TO BECOMING A PROFESSIONAL ENGINEER
You can apply your time as a PEY intern toward acquiring your P.Eng. designation from Professional Engineers Ontario. Your P.Eng. is your license to practice as a professional engineer.
What Our Students Have to Say About PEY: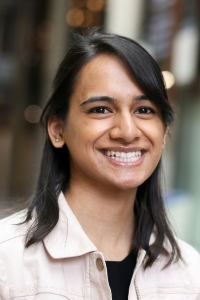 Priya Anandakumaran (EngSci 1T3 + PEY, IBBME MASc Candidate)
In addition to work in industry or commerce, many PEY internships offer students the chance to advance scientific research in emerging fields. For Priya Anandakumaran (EngSci 1T3 + PEY, IBBME MASc Candidate), it was the opportunity of a lifetime.
"Before PEY, I was sitting in a classroom reading scientific papers about various concepts in biomedical engineering," she said. "Six months later, I was doing the same kind of experiments that I was reading about, at the very institutions where many of these concepts were first discovered."
Anandakumaran spent her PEY year in Professor Jeffrey Karp's advanced biomaterials and stem cell-based therapeutics laboratory at the Harvard-MIT Division of Health Science and Technology. Her research focused on exploring the therapeutic properties of stem cells, which could help grow new tissues to treat heart disease, bone defects and other conditions.
Outside of the lab, Anandakumaran enjoyed the opportunity to explore a new city. "Boston is a beautiful city that has discovered a fine balance between nature, rich history, and modern architecture," she explained. "Boston's spirit and livelihood is also very contagious—after three months I was slowly turning into a Red Sox fan!"
Anandakumaran now works with U of T Engineering professor Molly Shoichet (ChemE, IBBME), conducting research in stem cells and tissue engineering. She credits her time in the Karp Lab with influencing her career path. "Working in the Karp Lab was an unforgettable experience. It was the first time I envisioned myself doing research long-term," she said. "Most importantly it made me really excited for my future in biomedical engineering."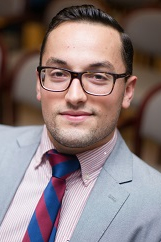 Gordon Dri (Year 4 CivE + PEY)
"The PEY internship interested me because it offered me a real-life experience of what I have learned in school for the past three years," said Gordon Dri (Year 4 CivE + PEY). For Dri, who is enrolled in the Engineering Business minor, that means applying engineering techniques like data analysis to make corporate operations more efficient.
Dri completed his internship at Cadillac Fairview Corporation, Ltd., which owns, manages and operates commercial real estate across Canada. Working in the Operations department, he tracked various building metrics: everything from the average temperature and energy usage to the number of service calls.
He then synthesized this data into reports that were used to make decisions around property management. For example, an increase in energy usage might indicate that certain equipment should be replaced, while a low number of service calls might be a selling point for potential tenants.
Dri aims to continue this type of work after graduation. "My future career plans are to work in analytics, leveraging big data to propel companies forward," he said. "In any industry or discipline, there are always problems to be solved. This is what engineering teaches you."
What employers are saying about PEY:
"An intern that is available for up to 16 months is very attractive to us. In most cases, it can take up to three months for a new hire to be fully trained and to feel productive. Having them on the team for longer allows them to get more out of the experience and to add more value to the team and to the business."
– Natalie Murray, Technical Recruiter, Demonware, Inc.
"I first learned about the PEY program as an Engineering Science student many years ago. PEY students contribute like full-time engineers and are treated that way. We also get to "try before you buy" a number of outstanding engineers. We are very pleased that so many have returned to join us full-time after graduation."
– Terry Borer, Manager, Altera Corporation
"Our organization has benefitted dramatically from our PEY experience. We've been lucky enough to get students with a fresh eye on our business model who contribute new ideas from day one. With every new skillset acquired, we've received insight into at least one new technology or approach. We've also found that the students that we've hired bring an energy and enthusiasm that is unparalleled in the job market today. It's something you just can't find in external internships or even new external hires."
– Adil Sardar, Lead Developer, WaveDNA, creator of Liquid Loops software